By: L. Kr., Photo: Občina Brežice
Green world at the confluence of the Sava and Krka rivers, thermal springs, vineyards, and authentic local delicacies, rich architectural and natural heritage, and numerous opportunities for hiking and cycling, along with a vibrant summer promenade with a rich entertainment programme.
Brežice is rightfully called a place where different worlds meet.
From recreation to relaxation in thermal spas
The Krka River is suitable for various water sports (city beach or Sports-Recreational Centre Grič, where you can also rent a picnic area), there are various cycling and hiking trails that take visitors past castles (the municipality boasts four: Brežice Castle, Mokrice Castle, Bizeljsko Castle, and Pišece Castle), churches, numerous vineyards, and tourist farms. Bike rentals are available at the Brežice Terme Čatež Tourist Information Centre.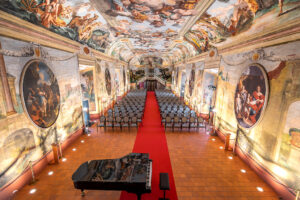 There are several hiking trails available, such as the Čatež Energy Path, Following Gad's Tracks (Gadova peč), Brežice Mountain Trail, Koščeva Path in Jovse, Pišece Forest Educational Trail (especially suitable for families with children), Path of Sovereignty, and Špiček Trail. Particularly appealing is the Čatež Energy Path, which leads to the top of Šentvid Hill to the St. Vitus Church, offering a magnificent view of the town of Brežice and Lake Brežice.
Take advantage of the exceptional therapeutic effects of thermal water, which was discovered over 200 years ago along the banks of the Sava River. You can indulge in it in numerous indoor and outdoor pools at the largest thermal complex in the country and one of the most recognised European thermal centres – Terme Čatež – or treat yourself to a break at the boutique thermal spa – Terme Paradiso. Both offer diverse options for relaxation and pampering for your well-being.
You can also enjoy a relaxing game of golf at Mokrice Castle, set amidst centuries-old castle forests, boasting 18 holes spread over 47 hectares.
Feeling hungry?
Take your time and savour the local cuisine. Indulge in a gourmet experience at Ošterija Debeluh, recognised with a Michelin Plate in the world-renowned guide, or stop by authentic local inns where you can enjoy local specialties. Explore one of the wine routes – Podgorjanska or Bizeljsko-Sremiška, where friendly farms, tourist farms, taverns, and wine cellars invite you to taste excellent wines and homemade local delicacies.
The city invites you to explore it
Brežice is a true historical gem of architecture, with numerous churches, castles, historic houses, museums, and other unique features that give the destination a distinct touch of the past. Overseeing the city is the mighty Brežice Castle with its famous Knight's Hall. Since 1949, it has been home to the Posavje Museum Brežice. The castle also serves as a venue for weddings in one of the most beautiful Baroque halls, as well as concerts, cultural events, and ceremonies.
The Water Tower is the most recognisable and now also an observation point of the city. It was built in 1914 for the needs of the municipal water supply. Standing at a height of 46 meters, it served its function until 1983 and now invites visitors to Brežice from afar. Following thorough renovation (2021-2022), it has been open to all visitors since November 2022. The tour is guided, and reservations are required. For more information, visit www.pmb.si/vodovodni-stolp-brezice.
BREŽICE'S TOP EVENTS OF THE SUMMER:
More about the events at www.visitbrezice.si/dogodki
City Promenade '23 (July 14th-29th): concerts, children's animations, workshops, sports activities for youth, local craft stalls, stand-up comedy, dance evening, children's shows, culinary street…
Summer Offer '23 (July and August): free guided tours of the city of Brežice and Jovsi Nature Park, guided tour and beer tasting (local craft brewery, for a fee), guided tour of alpacas and workshops (for a fee).
International Sports Camp HEPA Brežice – participation is free (3 terms: July 3rd-7th, July 17th-21st, August 21st-25th, 2023), there are still a few spots available for registration, young people aged 15 to 29 are invited to participate, participants will be accommodated at the MC Hostel Brežice, meals will be provided.
SOME OF THE MOST POPULAR TOURIST ATTRACTIONS AND SPECIAL FEATURES:
Knight's Hall (Posavje Museum Brežice)
Water Tower
Confluence of the Krka and Sava Rivers
Bizeljsko Underground Cellars (visitbrezice.si/znamenitosti/repnice)
Ferry on Mostec (listed in the Register of Intangible Cultural Heritage of Slovenia)
View from the Church of St. Vid (hiking trail)
Brežice Lake by the HE (walking paths)
Jovsi Nature Park
Homestead of linguist and lexicographer Maks Pleteršnik in Pišece
Birthplace of linguist Dr Jože Toporišič in Mostec
Visit the website www.visitbrezice.si, where you can find information about the rich tourist offer, accommodations, and points of interest.
Welcome!
Since 2022, proud holders of the Slovenia Green Destination Platinum title – the highest recognition for achieving internationally recognised sustainable standards.