By: C.R.
Jože Karlovšek was a tireless researcher and expert in ornamentation and Slovenian architectural heritage, a researcher of folk art, a builder and a painter. He was a great lover of everything Slovenian and a giant of Slovenian ethnographic cultural heritage. He was convinced that the Slovenian ornament is a strong tree that has been growing from the depths of the national soul and land for thousands of years and shows a special flower for each period of its past. With his work, in which he invested a lot of love and perseverance, he left an important mark and marked entire generations of Slovenes.
Such is also his family, which cultivates great respect for the homeland, people and tradition. His granddaughters Katarina and Julija Karlovšek, who are also lovers of everything beautiful, each strive in their own way to preserve the identity of the Slovenian nation. On Saturday, they opened an exhibition Beauty in Slovene in Kvartirna house gallery in Celje, where visitors could see various products from the Slovenian ornament collection by Jože Karlovšek, and beautiful paintings made in the acrylic technique, which radiate energy and warmth. The paintings are the work of Julija Karlovšek, who has a law degree and is an amateur painter. She lives and works in Switzerland and skilfully revives our cultural heritage in modern painting.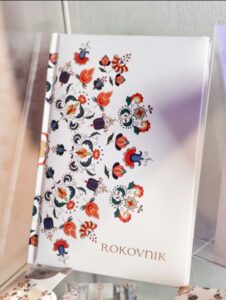 Three years ago, Katarina Karlovšek designed the Slovenian ornament collection by Jože Karlovšek, which today offers more than 60 different products for business, protocol and souvenir gifts. She continues her grandfather's work with the collection and invests a lot of effort, love and creativity in it.
For the first time in the exhibition, she displayed several products adorned with slightly different ornaments with a very thoughtful layout. It is a new generation of diary, reading diary, notebook and pens. For the first time, she also presented products that are the result of her cooperation with the Lace School from Idrija. "For two particularly recognisable components of our cultural heritage, Idrija lace and Slovenian ornament, this kind of cooperation is a great challenge, which we approach with great respect," said Katarina Karlovšek at the opening of the exhibition, who can be proud of every product. She can be especially proud of the mass cloaks made for the Shrine of Mary in Brezje and adorned with Slovenian ornaments from Karlovšek's book.
At the opening of the exhibition, among others, was also Dr Bojana Rogelj Škafar, museum councillor from the Slovenian Ethnographic Museum and curator of Slovenian folk art collections. "Just as Jože Karlovšek was inspired by folk art objects in order to create products in the national style in his time, so is his granddaughter Katarina Karlovšek inspired by his opus of ornamentation with the aim of recreating it in the form of modern useful products. In this process, the collection Slovenian ornament Jože Karlovšek is being created, creatively marked with a touch of Slovenian art," said Dr Bojana Rogelj Škafar.