By: P. J.
Boris Tomašič holds the world record for the longest talk show in history. The record was achieved on Wednesday, September 27th, 2023, at 6:18 PM. The longest show involved 70 guests. "I think we have done something huge. Something that will be remembered forever, not only in Slovenia. I believe we have and will carry the name of Slovenia to the world. We have proven that there are no limits for us," he said in a triumphant speech.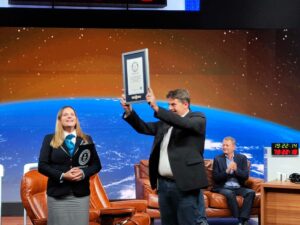 At 7:22 PM yesterday, an official representative/judge from the Guinness World Records entered the Nova24TV studio and awarded Boris a plaque officially confirming his achievement. "To break this record, you had to host the show for a minimum of 72 hours and 18 minutes. Nova24TV and Boris, congratulations, you are the new holder of the Guinness World Records. Congratulations, you are officially amazing," she stated.
Boris bid farewell to the audience in the hall and behind the small screens with the words: "Dear viewers, dear taxpayers, we endured for 73 hours, 23 minutes, and 21 seconds. We achieved the Guinness World Record, officially confirmed. With this moment, I am ceasing to host the longest television talk show, and all I can say now is thank you to everyone who helped, with special thanks to the best team in the world."
The show featured guests from various fields, including Tone Kuntner, Ivo Boscarol, Tina Bregant, Miro Petek, Uroš Urbanija, Martin Strel, Rok Marguč, Igor Lukšič, Bogomil Ferfila, Milan Zver. Also participating were Aleš Hojs, Aleš Primc, Boštjan M. Turk, and Igor Ogorevc.
You can read more about yesterday's events HERE – in Slovene.
Photo: Matic Štojs Lomovšek