By: V4 Agency
Strengthening Egypt is in the European Union's "vital interest", Prime Minister Viktor Orban said after a meeting of representatives of the Visegrad Group and Egypt in Budapest on Tuesday.
Migration is much worse now than in 2015, PM Orban said, adding that the EU could not cope without external allies such as Egypt, "one of the most obvious allies."
Mr Orban stressed that Egypt cannot pursue its current policies to rein in migration towards Europe, "we will all be in great trouble".
Mr Orban called on the EU to convene the EU/Egypt Association Council as soon as possible, accept Egypt as a strategic partner and approve its proposals against terrorism. He proposed that the EU adopt Egypt's list of terrorists and terrorist organisations.
PM Orban also suggested that the European restrictions preventing Egypt from purchasing border protection equipment should be lifted. He added that besides having to strengthen the border protection of Egypt, a country boasting a population of a hundred million people, the country must also develop an stabilize economically, so that young people living there can have the opportunity of a good life.
This is not only in the interest of Egypt, but also of Europe, he emphasized.
He drew attention to the fact that no ship carrying illegal migrants has left the coasts of Egypt since 2016. If there is a will and good leadership, migration at sea can be restricted or even prevented, Mr Orban said.
He stressed that they expressed their joint praise to Egypt's president for that achievement at the meeting. Mr Orban said discussions would continue in the afternoon, mainly on the topic of economic cooperation, to which Hungary is committed. He emphasized that a separate line of credit had been opened by Hungary's Eximbank so that Hungary could not only deliver goods to Egypt, but also set up factories there. These businesses could offer jobs for younger generations locally, while Hungary could also "contribute according to its own capabilities" to the European aid efforts that can stabilize the Egyptian economy in the long run, he added.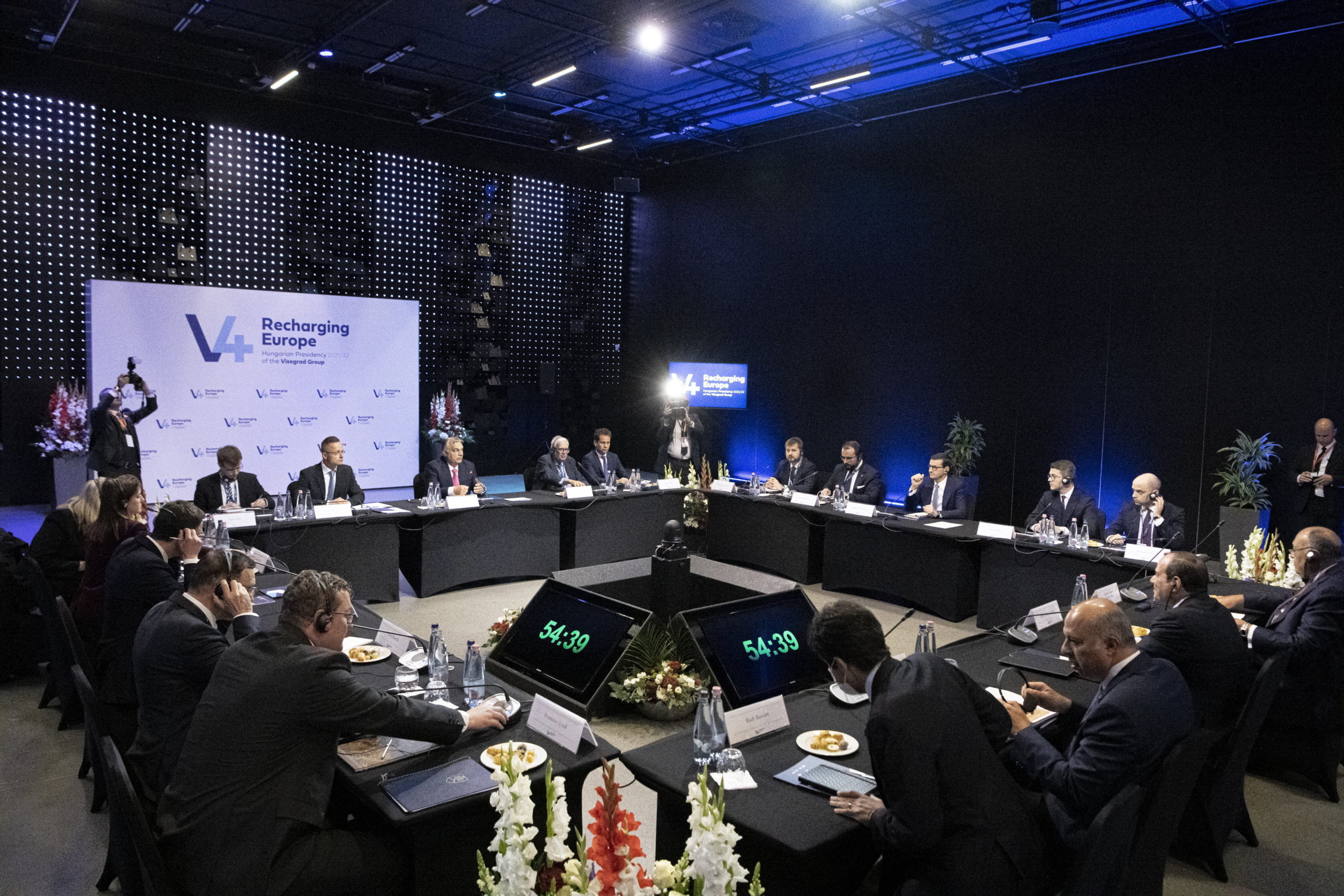 Photo: Hungary's state news agency (MTI) / PM's Press Office / Vivien Cher Benko
Mr Orban said it was an honour for Hungary to welcome the Egyptian president, who is received "with friendship, love and recognition", emphasizing that for Hungary, this is an old, fraternal relationship.
It is also important for Western European countries to understand that Egypt's leadership "respects its own people and strives for development," the president of the Arab Republic of Egypt told the press conference held in Budapest on Tuesday, after talks with the prime ministers of the Visegrad Group countries (V4).
President Abdel Fattah el-Sisi thanked the leaders of the Visegrad Group countries for their support, stressing its importance. However, this is not enough, he said, adding that support from Western European countries would also be needed. He said that Egypt – instead of being held to account for various human rights issues by European countries – would rather need these countries help to improve its political, economic and cultural landscape.
The question is whether Europe is ready to give Egypt an opportunity for "fraternity," by offering connections with its universities and taking some of its industry to Egypt to provide employment for 65 per cent of the local population. These are needs that must be met before legal standards can be discussed, he argued.
Abdel Fattah el-Sisi noted that no ship carrying migrants on board has left Egyptian shores since 2016, while the country has witnessed the arrival of six million refugees from Africa. Egypt did not let these people go any further to prevent them from putting themselves in harm's way, or even perish at sea.
Although the standard of living in Egypt isn't as high as in European countries, there are no refugee camps, he said, adding that six million refugees are treated as guests. They live like Egyptians, "they study in our schools, we treat them in our hospitals,"he explained.
He also highlighted that Egypt has spent several trillion Egyptian pounds in recent years on improving road infrastructure, sewage treatment and irrigation in order to raise the living standards of 60 million people in rural areas.