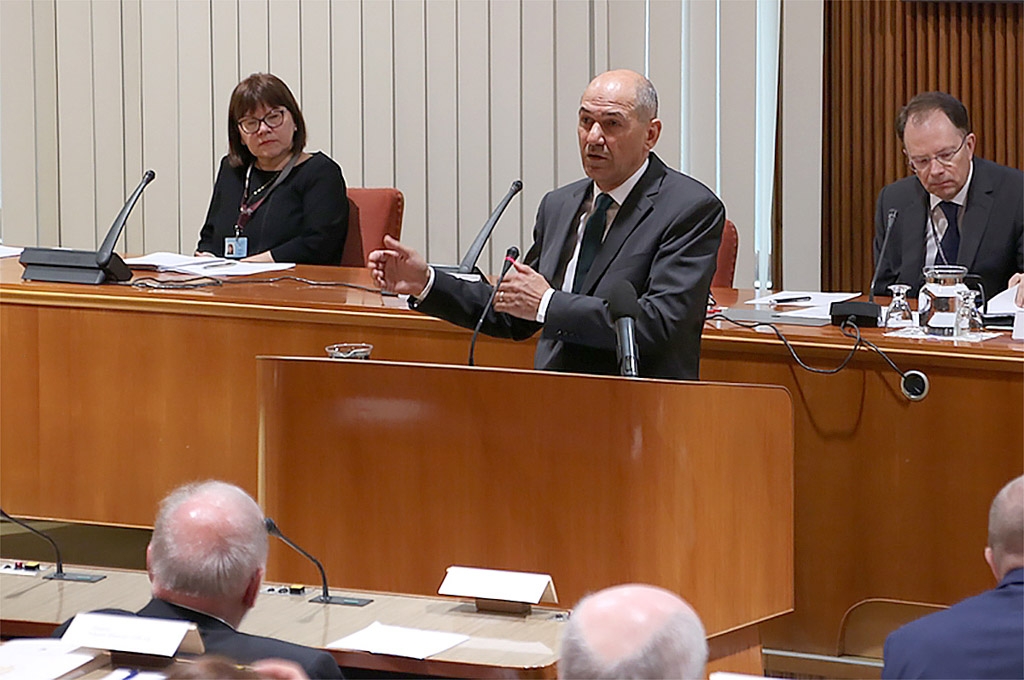 Just a few days after his election as prime minister, Janez Janša attended a consultation about the financial situation of Slovene municipalities, prepared by the National Council in cooperation with representative associations of municipalities.
In his speech, he recalled two important measures that, in the thirty years of independent Slovenia, represented positive steps for strengthening local self-government and this is namely the reform of local self-government from year 1994 and the law on financing municipalities from the time of the first Janša's government, which sought to eliminate violations of the Slovenian constitution. The third step, decentralization of the country through the creation of provinces, has not yet been done.
In the following, Janša spoke about the lump sums that have been below the legal limit for many years. If this was the case in times of crisis, when the state had to save, this could still be a justifiable argument, Janša said, but it is not fair that after the crisis and today, when we have economic growth, the lump sum is still not at the level that it is envisaged by law, but above all it is not at the level of needs and legal obligations of municipalities.
According to Janša's opinion, every government, when interfering with the functioning of local self-government, should follow the principle of "nothing about local self-government without local self-government", otherwise there is a gap between beautiful goals and what is actually enshrined in the law. Janša thus promised to cooperate with municipalities in the spirit of the coalition agreement and following the example of his first government.
He also recalled that the government had already visited the terrain at that time and with that goal the new government will continue to: "We will talk about problems, we will look for solutions." In his opinion, it is of utmost importance that the problem solver also gets to know you well in the field or where the problems actually are.
Janša also reminded that the burden of defence against the coronavirus epidemic will also fall on municipalities. "It is true that panic is of no use to anyone, but it exists less, the more there are number of people who have more accurate information and the more number of questions that arise are answered.
We have a common problem ahead that needs to be taken seriously," he noted. He said that the most deprived categories of the population, such as nursing homes and health care facilities, should be best protected. "I hope that enough protective supplies will be released from the commodity reserves, to be able to distribute them preventively," he said.