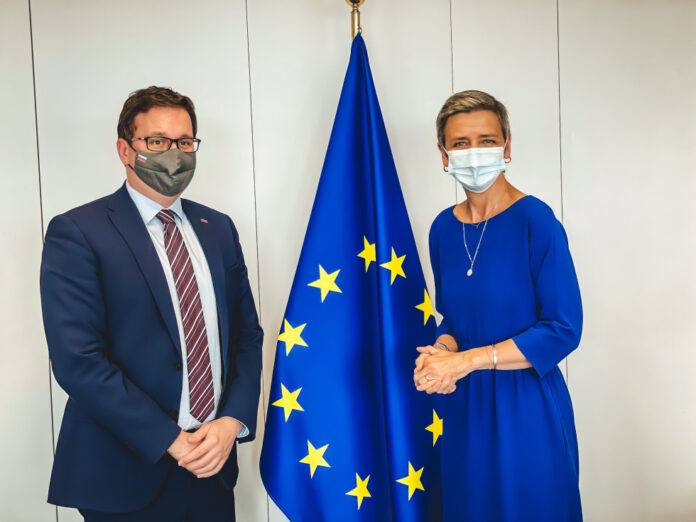 By: UKOM
On the second day of the two-day official visit to Brussels, Minister of Public Administration Boštjan Koritnik met with the Executive Vice-President of the European Commission Margrethe Vestager and the Director-General for Transport, Energy, Environment and Education (DG TREE) Peter Javorčik. The purpose of the two-day visit is part of Slovenia's preparations for the Presidency to the Council of EU and present priorities in the field of digitisation or digital technologies, artificial intelligence and cybersecurity.
At the meeting with Commissioner Margrethe Vestager, Minister Boštjan Koritnik stressed the importance of accelerating the development of a digital society in the European Union in order to exploit the development of ICT opportunities to improve the quality of life of all citizens of the European Union: "Digital transformation, along with green transition, is one of the two key elements of the European Union's economic revival. The goal of making Europe more environmentally friendly, digital and resilient, also in light of cybersecurity, involves managing the digital transformation, particularly in the areas of data, technology and infrastructure."
The two interlocutors also spoke about the Digital Services Act. They agreed that citizens are exposed to increasing risks and harmful consequences online: From the dissemination of illegal activities to the violation of their fundamental rights and other detrimental consequences for society. The Digital Services Act brings an ambitious reform of the digital space and introduces a comprehensive set of new rules for all digital services. "Regulating the functioning of online platforms, especially the larger ones, would significantly improve the mechanisms for removing illegal online content and help protect fundamental human rights online, including the freedom of speech," stressed Minister Boštjan Koritnik.
The Minister also met with Peter Javorčik, Director-General of the Transport, Energy, Environment and Education Council (DG TREE). They discussed the content course and preparations for the Presidency. The Minister presented DG Javorčik the International Research Centre for Artificial Intelligence (IRCAI), which is based at the Jožef Stefan Institute in Ljubljana and was established under the auspices of UNESCO.
The Centre shall act as the main coordinator, funder, and accelerator of activities for the achievement of the United Nations Sustainable Development Goals through artificial intelligence. IRCAI's aim is to empower top entrepreneurs, researchers and projects using artificial intelligence, which would not be able to achieve visibility on global markets, while at the same time creating the world's largest platform for sustainable solutions.
Source: gov.si