By: Lea Kalc Furlanič
Aleš Piščanc is an entrepreneur from Koper who four years ago bought Hotel Koper on the Koper riviera from DZS and Terme Čatež, renovated it into a 4-star hotel and changed its name to Grand Koper. The family also has tourist accommodation in Osp and the excellent restaurant Capra on the ground floor of the Grand Koper Hotel.
The Pišcanc family embarked on a multimillion-dollar investment because they believe in the future of a successful or strategically appropriate development of tourism in Slovenian Istria. Aleš Piščanc is therefore an active tourism worker who, together with like-minded people, also organises public forums to educate responsible people about the importance of integration in tourism. We talked with him mainly about the latter, but also about the long-term planning of the development of this industry.
In your opinion, what is wrong with the concept of state tourism, which includes large companies such as Sava tourism, etc.?
National tourism should be the driving force of our tourism. But the opposite is happening – state tourism is a state within a state, it is the clog of the development of tourist destinations. I will explain why I think so. It is true that state tourism deals with its guests in a high-quality way, but it does not include itself in tourist destinations, even if it has 80 percent of all capacities, and does not contribute to their development. The latter is impossible to achieve only with the help of secondary and tertiary providers, such as providers of apartments and other smaller capacities. Big players with capital, with a rich offer, must be involved. This is the only way the destination can develop. If hoteliers unite, it is much easier to assert their needs or the needs for tourism development together with municipal services and at other decision-making levels. Now none of them care. In addition, they have the worst conditions for employees in state tourism, such as the lowest wages, and thus destroy tourism professions. Many people change jobs and professions out of frustration. They also harm us because we are not allowed to hire external workers, but state tourism can. I could list much more. Thus, in the course of 30 years, a great deal of damage was caused in the field of the tourism industry, instead of progressing, developing.
What role do tourist associations and institutes play? Are they an end in themselves or just a cost for municipalities or what is the use of them?
Budgets for tourism associations are very low because municipalities and the state do not have a real vision of tourism development. After all, if someone has a vision, he first invests money so that he can realise it. If we want to have a potato on a plate, we must first plant it in the ground. If you do not have this vision, then you wait and convince yourself that nothing is worth it. But that means you are a bad visionary. It has been like this with us for 30 years. Everyone is waiting for something, everyone is on mandates, they come, work for 4 years and we depend on these mandates. We do not have medium- and long-term strategies in Slovenia for nothing. For example, we have been dealing with the regulation of water supply in Slovenian Istria for thirty years, but we still do not have it. To compare: in 30 years, they built all of Dubai from the desert. What about us? Why do we not have water supply yet? Because it just does not pay off. Of course, not in one mandate, in four years, according to the estimation of such people, of course nothing is worth buying, not even buying a car or a coat. Even if the coat is worn for more than 4 years, the car is driven for more than 10 years and the arrangement of the water supply in Istria is amortised in 100 years. But such ventures require vision and courage. Our decision-makers with 4-year mandates do not have this. It is not even worth it for them to have it. They prefer to reject investments, saying they are too expensive, etc. This shows our smallness and limitation.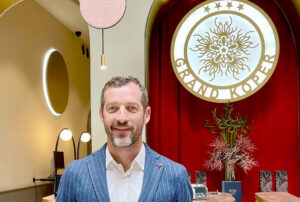 It is also similar at the state level: in the case of water supply on the Coast and the Karst, the state was not decisive enough, as it did not adopt the DPN, which could have regulated land ownership and other problems. It preferred to let the project fail.
Yes, that is right: unfortunately, we all depend on leadership at all levels, but we do not have a vision for Slovenia for the next 30 years, so that we can continue any project forward as successfully as possible, regardless of who is in power.
What do you see as the solution?
If we talk about tourism: we have had tourism in our area for more than a hundred years, and because we have the sea, there will always be a favourable climate. However, it must be utilised properly. It is necessary to sit down, think carefully, make a long-term plan, devise an appropriate vision. It does not matter what that vision is. Megalomaniac infrastructure facilities are not important. We can go (I am caricaturing) apitourism or sports tourism. It does not even matter what kind of tourism we will develop. It is only important that we have a solid foundation for the long term. So, let's agree on something and develop it. And that we have a common vision.
Should the Istrian municipalities be linked in tourism?
Yeah, that is the least we have to do. That all municipalities connect and that we have a common centre, common budgets and that we act together as one destination. Because the guest who comes to us does not know where the borders are between Koper, Izola, Piran, Ankaran. He just wants to see all these places. At the same time, we can be satisfied that our guests have a rich choice – from business tourism in Koper to family tourism in Izola, classical tourism in Portorož, congress tourism in Bernardin, spa tourism in Ankaran. I am convinced that this should be marketed together, not that the municipalities are jealous of each other. After all, they are not competitors, but rather we are one common tourist destination.
Do stakeholders in the tourism of Slovenian Istria understand this?
I think there has been a shift now. After the last elections and with the actions of my like-minded people, who are also involved with the forum for the development of tourism, this development concept of tourism has definitely started to be talked about a lot. It started rolling. We organised the forum in Koper on March 14th, and the next day something similar was prepared in Portorož. Then in a week it was in the Vipava Valley, then in Ilirska Bistrica. Everyone recognises this as key. We do not do anything outside the regulations.
It is true because the country has adopted a new tourism strategy…
Yes, Slovenia adopted a new strategy for the period 2022-2029. And if the state accepts something, we are obliged to take it into account and implement it. Vertically down. But not to remain only on paper. The state also invests money, the latest strategy is valued at two billion euros over seven years. However, a positive moment has begun on the Coast.
What do you think about Počivalšek's idea of centralising state tourism?
That would be just one good ATM. One big vault. Personally, I do not think it was a good idea. It should be discarded as soon as possible and strategically sold hotel by hotel, not in a package to one owner. Gradually sell them to different owners and with time intervals in places. This would fragment ownership and increase competitiveness or the quality of the offer.
Let's return to Koper: there are more and more tourist apartments here…
If we want to have a healthy environment, this activity should be more strongly regulated. This is exactly why we need to have a strategy, which I keep stressing. This is also done on the basis of critical points in the tourist offer. The flood of tourist apartments in the centre of Koper is one of them, because there are too many visitors in the summer, which burdens the environment, roads, medical institutions, etc., but not enough in the winter. If we had a proper strategy, we could manage our space better. I want to say that it is up to us to provide Koper and its hinterland with suitable tourism for everyone, from which everyone would benefit.
What do you suggest?
First of all, the decision-makers or authorities should get to know tourism. That is why we have prepared a development forum. Tourism in the municipality of Koper (and also elsewhere) is a very important economic industry, and a lot of people live from it. When they understand this, we put our heads together and outline a sustainable path (strategy) that will lead the destination to truly effective tourism management. The local community has to run it. And municipalities, as already mentioned, must connect. If we can have a joint municipal police, fire brigade, hospital, we can also have a joint tourism institute. Let not a few people in Koper, a few in Izola, Piran, and all the municipal councils deal with it, but one group for all four municipalities. This would also save on fixed costs.
What tourism strategy do you have for the destination of Slovenian Istria?
It is actually very simple. I also presented it to many people in charge. The strategies we are adopting now guide us only for a few years, which is not enough to achieve really effective development of the destination. I myself propose at least a twenty-year plan, which will determine what an individual place or municipality should build, upgrade, create in a certain period of time. For example (I am caricaturing) Koper sports centre, Ankaran spa centre, Portorož airport, Sečovlje golf course, hinterland equestrian tourism, etc. In this way, everyone can prepare for this innovation in time with complementary, supporting activities. Anyone who invests money will know why and that it will pay off in the long run. In 20 to 30 years, we could develop our destination to perfection. But we must no longer hesitate, wait, be distrustful. In one year, we must design this long-term and sustainable tourism strategy from which we will all benefit the most.