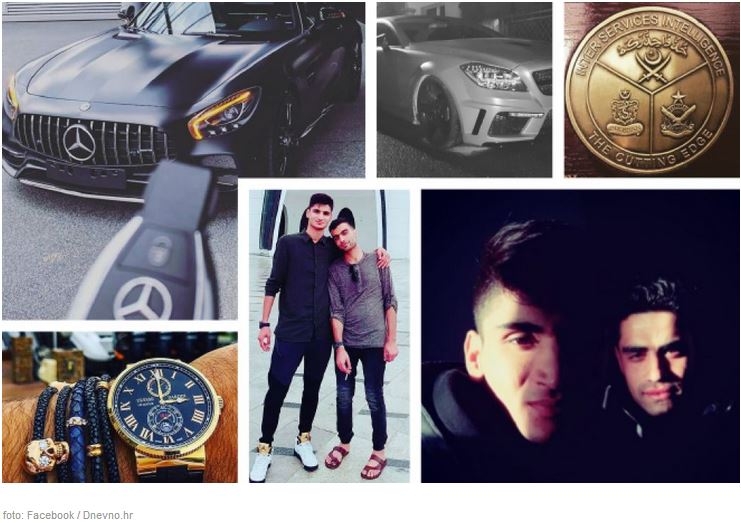 Remember the accident that happened on the Primorska Highway to a car that transported illegal migrants? The Croatian whistleblower now reveals that the accident was part of the scenario and was committed deliberately.
The Croatian web portal dnevno.hr has exclusively published a number of dirty details regarding the smuggling of illegal immigrants in Croatia, which of course includes Slovenia as well. According to journalist Marin Vlahović, Croatia has failed to protect its borders from the arrival of illegal migrants, who continue their journey to Italy and Germany. They come from Afghanistan, Pakistan, Syria and other Middle Eastern countries. For them, Croatia is merely a transit country, not their main goal.
The author writes: "It seems, at first glance, that the chaotic process of settlement and changing of the national image of Europe is taking place. On the other hand, there are many who spread false information and conspiracy theories, which in fact conceal the real conspiracy. Without a doubt, this mass migration of nations is more powerful than Croatia, led by incompetent powers. It may even be more powerful than Europe itself, which does not even know how to take a stand against the migrants".
Sameer Parvez Khan, a Pakistani citizen, is twenty years old and lives in Zagreb at 49 Andrija Žaja street. Sameer appears different from his peers – wearing expensive jewelry and a watch of the 'Ulysse Mardin' brand, which costs around eight thousand dollars. He dresses in the most expensive clothes and owns a vehicle fleet worth about half a million euros. He does not hide his wealth and, as every young man, enjoys himself in full. According to daily.hr, Khan is the main organizer of illegal migrants' travels across Croatia and then across the border to Slovenia, which was also acknowledged by many drivers who carried out these services. According to one of them, Khan took care of the transport of about a thousand Afghans and Pakistani to Italy and Slovenia. Khan collects about 600 euros for every migrant. Due to increased border controls lately the prices have increased, so the price of transport per migrant has increased as well. The drivers say that they first received from one hundred to 150 euros per person, now they collect 600 euros. They get the money via Western Union and all communication, from Pakistan to Zagreb, takes place through the "WhatsApp" application. One of the drivers also revealed the routes by which the transport of migrants is taking place, as well as the points where the migrants take over and where they are dropped off. They are picked up in Plitvice, Slunj, Osijek, Gračac, Glina and Udbina, while the drop offs are in Zagreb, Buzet, Vukovo Selo and Šapina. Part of the migrants is temporarily staying in Zagreb, some of them in secret.
Dnevno.hr also states that Sameer Parvez Khan is not looking for drivers in person, he gets the help from higher organizers who are also responsible for purchasing a vehicle. Mostly they use Opel Insignia, Opel Corsa, VW Golf VII, Ford Fiesta or vans as rentals. According to some data, Khan recently also purchased a truck. One of the drivers confirmed that there is never one way to go, there are two or three. In one there are migrants, while in others there are those who take care of security or discourage the attention of the police. "If a police vehicle appears, they deliberately commit an offense to provoke a police reaction. The latter stops them and the vehicle with migrants continues on", said one of the smugglers.
Some transport organizers are alleged to have been in custody, however apparently, they did not betray their superiors. For the time being, police have been able to arrest only the drivers, but none of the "higher" organizers. In Slovenia, they arrested Antun Amić, who had seven migrants in his car and got involved in a car accident. Amić belonged to the circle of associates of the aforementioned Khan. The latter was supposed to have five close associates and intermediaries who hired between fifty and a hundred drivers. Mostly they are younger people in their early twenties, willing to take risks.
So, who is Sameer Parvez Khan really? A young Pakistani with a thick wallet? According to daily.hr, referring to former smugglers, his father is a Pakistani diplomat in Italy, however he himself is said to have lived a rather lavish life and has quite a lot of followers on Instagram and Facebook. He likes to go out to restaurants and pubs with his friends near his home. He represents himself as an entrepreneur, a trader dealing with exports and imports. In all likelihood, he also enjoys the protection of the Pakistani intelligence service. By the way, the Pakistani consulate is only 400 meters away from Khan's apartment. Since Khan in all likelihood also possesses diplomatic immunity, under the Vienna Convention, the Croatian police, as well as the judicial authorities, cannot do anything. After all, Khan did not violate any law by the doctrine and strategy of his homeland and he has given employment to Croatian citizens.
In a moment of gaining clarity regarding the Marrakesh Declaration, the question arises as to why we need the compact on migration, if we have Sameer Parvez Khan in Zagreb, concludes the journalist of dnevno.hr.