by Peter T.
This is how – from a video on YouTube it seems that near a border of Serbia and Croatia – at least eight illegal migrants, including a minor boy, jumped from the cistern of the Celje (Slovenia) company Silo Jelićić.
It can be concluded that the cistern is from Slovenia because it has Slovenian license plates, and in addition, the inscription SILO Jeličić appears in the part of the video. The owners of the company are Dragana and Nenad Jeličić.
The Celje company Silo Jeličić is doing well. Last year, it had € 12.23 million in revenue and € 0.13 million in profit. It also has a business unit in Rogaška Slatina, and also has a company of the same name in Požega, Serbia.
The company's annual report states, among other things: »The company Silo Jeličić d.o.o., wants to consolidate and upgrade its international status as a trusted, reliable and dedicated bulk transport company in road freight transport.« It is not clear whether the bulk cargo also includes migrants, as apparently their driver smuggled them in a tanker next to the bulk cargo.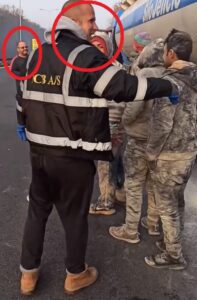 We also sent questions to the Celje company. We are still waiting for their answers.