By: Domen Mezeg (Nova24tv)
Today, the Požareport portal reports on news about the hot "divorce of the year" between the daughter of former DeSUS champion Karl Erjavec – Eva Erjavec, a master of economics and former queen of Instagram, and the rich Andrej Marčič. Namely, the case is being moved to court, and two well-known law firms from Ljubljana are said to be involved in the court saga.
The Erjavec family (Karl Erjavec and Eva Erjavec) allegedly hired the law firm of Bruno and David Sluga. David himself is said to be representing Eva. The law firm became famous during the infamous separation of spouses Helena Blagne and Mitja Zaman (on Blagne's side). And the wealthy businessman is also said to have hired the largest law firm in terms of revenue, Jadek & Pensa.
The latter is otherwise known as one of the wealthiest offices of its kind in Slovenia, as it is supposedly prides oneself on five million euros in revenue annually. As is already known, Erjavec allegedly demanded a house by the coast from Marčič at the time of her divorce, as many as two apartments in the capital and seven thousand monthly in alimony. However, there is no official offer on the table yet, and lawyers are only initially negotiating. Otherwise, it is to be expected that they should make a fat profit in the process.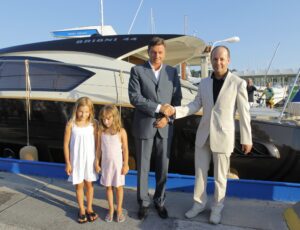 It is also known that the famous divorce took place after just six months of marriage. According to the Požareport portal, they had a son during this time. It is also known that Marčič informed the media about his marriage to Erjavec on his own. After the end of the "fairy tale" about the princess, who is considered a "girl from high society", and the "prince", it is said that there was even a physical confrontation between Marčič and Erjavec. It is also known that Marčič became rich with business in the field of health care, and later also with the manufacture and sale of yachts. Even the then Prime Minister Borut Pahor attended the launch of the luxury boat Brioni 44 in 2010.