By: Sara Bertoncelj / Nova24tv.si
"Unreasonable and dangerous exploitation of children for political purposes during an epidemic. In addition, an illegal rally. Precisely due to such irresponsibility, the situation in individual regions is deteriorating instead of the other way around," Prime Minister Janez Janša warned during the protest against the announced closure of schools. "A journalist of the public RTV Slovenia first calls upon people, and then reports on the situation independently," wrote Bojan Požar, pointing out the role of the mainstream media in the contribution of distrust in government measures among the people.
With the schools closing again, a call for a silent protest started circulating on social media, which was allegedly written by the staff of the Tone Okrogar Primary School in Zagorje ob Savi. "We are also done with this. It is our opinion that we should not remain silent," they wrote in a notice to parents. In it, they announced that teachers and students, following all the recommendations, will form a circle around their schools with their hands, thus warning that schools need to reopen. "Schools need to open up to everyone," they urged.
But the uprising then did not occur, as they estimated that it could violate protective measures. "There was actually no rebellion, but we wanted to be heard. And in a way, we have achieved that," the principal Nataša Grošelj told Slovenske novice, emphasising once again that closing of schools should stop. "We also wanted to point out that the pedagogical profession must be heard and taken into account when adopting measures. We can no longer be silent. It should be noted that schools were not a source of infections, that we adhere to measures, and we do not oppose to testing. It is time for schools to reopen, because the plight of children is great," she added. By the way, we learned that Grošelj has her mother in the hospital connected to a respirator. Is a comment needed at all?
Among other things, Grošelj also asked on her Facebook profile: "What will have to happen for you to believe us that students have to go to school?" Of course, it would be better to ask what will have to happen for people to finally realise that we are in an epidemic and that the virus is spreading most where people are. It is really no longer clear to a person who can count to three how anyone else can wonder why we are doing so badly in dealing with the epidemic. Are the measures to blame because they do not work?
Take, for example, the limitations of socialising. If people follow this measure and do not socialise, the virus simply cannot spread. If people do not respect the measure and continue to visit or socialise in one way or another, it is quite logical that it will be much easier for the virus to "socialise", right. Although, it is true that distrust of government action has been greatly contributed by both the mainstream media and a particular political option that has undermined any government decision from the outset, and has repeatedly called on people to oppose measures aimed at curbing the spread of the virus.
We can also mention that the president of the parents' council of the primary school Tone Okrogar in Zagorje ob Savi, Emanuela Škalonja, in addition to being the organiser of the protests, is also a candidate for the last local elections 2018, on the list of the LMŠ party.
"She is employed as a bus driver, a mother of two sons," the LMŠ Zagorje ob Savi party wrote during her candidacy, adding that she has many ideas that can improve their hometown. According to our information, the protagonists of this action in Zagorje ob Savi are also Željko Železnik from the SD party and Rudi Medved, an MP from the LMŠ party. The protests are also supported by the March 8th Institute, led by Nika Kljun, the daughter of LDS member Miha Kovač.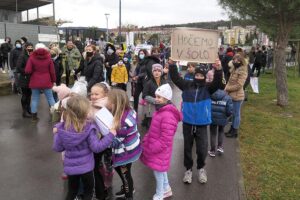 It is about the kids. And a call upon reason.
No doubt, the mainstream media will report that the Government is to blame for the epidemiological picture, and meanwhile, public television journalist Eugenija Carl is helping to organise the protest, where more or less all measures have been violated. Carl recently announced that on Sunday – that is, today – the parents and their children will be arranged along the Semedela promenade. "Everyone who cares about the future of your children is invited," can be read on the call for protest. Yesterday, about two hundred people from Zasavje prepared a protest on the stairs at the Workers' Home in Trbovlje due to the announced closing of schools. The protest was primarily intended to "call upon reason" regarding children. True, a call upon reason would be more than necessary, but they seem to be imagining it completely wrong. Even the constant repetition that it is about children is more than absurd, given that their health is clearly not in their interest.
Damijan Terpin, a cross-border lawyer, also wrote down his opinion and spoke about his view of the coronavirus situation in Slovenia and Italy. "Until a few weeks ago, when I spoke with acquaintances, friends, and colleagues in Slovenia, I perceived a terrible indifference, superiority, and an ignorant attitude towards the coronavirus. The feeling was that the mentality of what can they do to us, prevails, which I do not believe is characteristic of the Slovene soul, but in my opinion is the result of an obscene media campaign, which cannot happen in any other Western European country and it did not happen," he told for Siol.net.
He also said that the first wave of the epidemic in Italy was very severe, and Slovenia skilfully defended itself, obviously with thoughtful and timely measures. In Italy, they were locked in houses for almost three months, he explained. Even in Italy, they are not the most enthusiastic about the measures, but there was so much unrest in Slovenia that it is unbelievable. "So much anger and raw opposition to any measure, including the wearing of masks, as you have expressed in Slovenia, is unbelievable and there is certainly no comparison for you in the whole of Europe. /… / There is also no such obsession and anti-government hysteria that has been happening in your country recently," Terpin emphasised.
Terpin explained that in Italy, the media did not allow themselves to incite people to the streets in the worst crisis, their students certainly did not get 150 euros like ours, and no head of management union was scaring on television what irreparable psychological consequences will befall students after three weeks of distance education.
"I am convinced that what the opposition is saying, that the government is using the coronavirus crisis to consolidate power, is simply not true. The truth is just the opposite. The opposition is recklessly and shamelessly, considering the danger of the disease, using this crisis to overthrow the government in the face of an obvious drought of others, i.e. political, arguments. This is done in such a way that every anti-corona measure of the government becomes the topic of the day in the media," Terpin rightly remarked, adding that he cannot imagine that in the middle of the first wave of covid-19 disease the Italian public television RAI would dare to run an anti-government campaign on these topics just because of the anti-government attitude of some editors.