By: Mitja Grmovšek
We spoke with Luka Simonič, who recently became the president of the Podravska regional coordination of SDS. It unites as many as 15 local party committees and will play an important role in the upcoming local elections. In May, Luka also became the vice president of SDM at the state level.
DEMOKRACIJA: Luka Simonič, can we say that politics is your passion?
Simonič: I cannot exactly say passion, but I can say that I am someone who likes to deal with politics. Above all, I like working with people and listening to their problems, ideas, and initiatives, because only this can bring progress in the local environment in which we live. A popular saying goes: Two heads are better than one.
In any case, I mainly try to connect people with different points of view, because these days our society is too divided, and we simply have to set a boundary where those who think differently can be united. If we achieve this, we will build such a country that even our ancestors would be proud of.
DEMOKRACIJA: You are the face of young people who are stepping forward. What message would you give them, why politics and why the SDS party?
Simonič: I always tell young people that they have to represent the views and values they believe in, and whether these views are directed more towards the right political option, or the left is their choice. Above all, young people must listen to each other and exchange good practices. It is sad that we do not get along with someone because of political beliefs. As a joke, I like to say that everyone prays to their god (laughs).
I will never forget hearing many times on my first meetings that we were a yellow family. This seemed very cliché to me at the time, but today I can say that I am one of those who really lives this yellow family. I have many friends from the ranks of the Slovenian Democratic Youth, and I could say that I am not connected to this party only by political values. That is why I always advise young people with our values to get involved in the party and learn how a political organisation works. So, join us and experience the life of a yellow family.
DEMOKRACIJA: You were one of the youngest candidates in the parliamentary elections. How was the experience?
Simonič: The experience was extraordinary. On the one hand, you see the problems and opportunities offered by the local decision-makers of your municipality, and on the other, you see them from the citizens. And then you see that a lot of compensation and coordination is required. I can say that I met a lot of new people during the campaign and that you can only see how strong our party really is on the ground.
But for me personally, it was an extremely difficult test. Balancing school, sports, family life and campaigning are extremely difficult. Mainly because we visited over 3,000 people and reached out to them. I am really grateful especially to my family.
In the end, it was a bitter experience, because I was defeated by a candidate who practically did not cross the threshold of the electoral district. However, we have learned a lot and will work to ensure that the election defeat in the Maribor 2 electoral district does not happen again. But if we look at it from the other perspective, we improved the election result by more than 1,000 votes, and in the end, we were only 30 votes short of entering the parliament. I will now use this experience and knowledge in the local elections, where I will most likely run for councillor in the municipality of Maribor.
DEMOKRACIJA: You have decided to continue walking the political path. You become the president of the Podravska regional coordination of the SDS?
Simonič: That is true. It is time for young people to take responsibility where possible, which is why I ran for president of the Podravska regional coordination of the SDS. I have to thank all 15 local support committees for recognising my vision.
We are also intensively preparing for the elections in all 15 municipalities, and I believe that we will achieve victorious results in the Podravska region. I myself will try to do a lot of my work in the field and help all the candidates. We have potential and we have an outstanding membership that we can use in this election.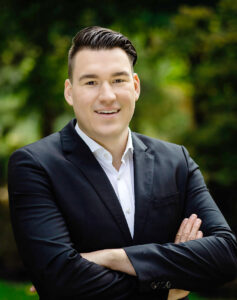 DEMOKRACIJA: What kind of responsibility is that for you? What are the future challenges for the region?
Simonič: The responsibility is certainly great. I can say that one of the biggest challenges is to get a larger number of young people to create an intergenerational dialogue within the committees themselves. Even in the local environment, we must know the problems of young people and know how to solve them. That is why we will introduce practices to include in local programmes the ideas of local youth associations, which know the mentioned issues best.
We also want greater support from young farmers, who are key to our future generations. I also personally really wish that we could help them locally where possible. Today we see that agriculture is the industry of the future. We do not know how long the war in Ukraine will last, and if we do not boost domestic food production, food prices will continue to rise. The challenges and expectations are therefore great, so we will try to meet the expectations of the people and the team.
DEMOKRACIJA: The Podravska region has as many as 15 local SDS committees. What can you say about them?
Simonič: I must say that we are quite a colourful group (laughs). The Slovenska Bistrica area consists of the municipalities of Makole, Poljčane, Oplotnica, and Slovenska Bistrica. These municipalities achieved an excellent result in the parliamentary elections, where Karmen Furman was convincingly elected.
Lovrenc in Pohorje, Ruše, and Selnica ob Dravi are the three so-called Pohorje municipalities. We can also boast that Vlasta Krmelj is extremely successful in leading the municipality of Selnica ob Dravi. In these municipalities, the fight for city government will take place again, and we will do everything to maintain the successful results of previous years.
Then we have the suburban municipalities of Rače-Fram, Hoče-Slivnica, Miklavž na Dravskem polju, Starše, and Duplek. In these municipalities, the issue is extremely strongly linked to the Maribor municipality, which does not listen to their problems, which is why I advocate for the establishment of active cooperation. In any case, these are municipalities in which we can improve or build on the election results from previous years.
There are still the wine-growing municipalities of Kungota, Pesnica, and Šentilj, where we will also be active and with which we want to connect more closely.
DEMOKRACIJA: What will be the preparations for the upcoming local elections?
Simonič: Preparations are already starting, we are drawing up lists of councillors, collecting candidates who will enter the mayoral race. In the local communities, we also check who could represent us all in the local communities and so on. We want to involve all our active members who want to help in the local elections, because only such an organisation of people will bring the result we want.
DEMOKRACIJA: What are your expectations as president?
Simonič: My expectations are extremely high. The goal is to win these local elections convincingly. But we will not do any polls, so as not to put us to sleep. For us, the real polls are local elections.
As president, of course, I strive to fulfil the operational things that the candidates themselves will need, and that the work of the campaign runs smoothly. At the end, we will analyse and evaluate whether our approach was correct or not.
We will try to maintain good practices. We will also organise many discussion evenings, where people will be able to hear many interesting things and ask well-known speakers questions that will also touch their lives. Personally, I think this is a good approach. We need to connect and educate people. We can enable people to become socially active and politically educated.
Finally, if I give my opinion for Slovenia as a whole, I think that we are facing extremely difficult elections, which, given the current poor performance of Golob's government, we can also win convincingly. But we must be aware that there is someone standing before us who wants to defeat us with all the means at his disposal. I believe that lists of so-called independent candidates who will be complete followers of the current government will also begin to appear in our municipalities. After the local elections, these "independent lists" will merge, as is the practice with the SAB and LMŠ parties.
DEMOKRACIJA: There will also be presidential elections before the local elections. Who is your favourite?
Simonič: I think that the presidential elections will be extremely interesting, because there is no obvious favourite. There are some names coming up, but I do not think they are names that could fill this position. The question is also whether the majority of the parties will nominate their own candidates, or the majority of the candidates will again be the so-called non-party affiliated, which would mean a lot of confusion about who supports whom.
On the one hand, the presidential elections will also show whether the people will once again choose the candidate that Ljubljana mainly wants, or whether we will choose a candidate who will really be the president of all Slovenians and not just the president of major cities or one party, one leader.
I believe that our party will also have its own candidate to tell people that we are ready to take on this very responsible position.
Biography
From an early age, Luka Simonič has been interested in the history and sociology of society, he is especially interested in the ancient history of Rome and Greece. He particularly likes to read works on the rise of democracy and also on its decline. In addition to the Slovenian political scene, he is interested in American and French politics. Despite his youth, he persists in his political path. Thus, he recently became the president of the Podravska regional coordination of the SDS, which unites as many as 15 local party committees and will play an important role in the upcoming local elections. In May, Luka Simonič became the vice-president of SDM at the national level.