By STA
Slovenia celebrates Statehood Day on Saturday, marking 31 years since the country declared independence from the former Yugoslavia. A number of events and celebrations were held across the country last night to mark the occasion, with President Borut Pahor addressing the main ceremony in Ljubljana.
Before the ceremony late on Friday evening, President Pahor held the annual reception for the families of those who had fallen or been injured in the 10-day war that followed Slovenia's independence declaration.
He also laid a wreath at the monument to the victims of all wars in Congress Square, underlining that the courageous people who gave their lives for an independent Slovenia will never be forgotten.
Preserving peace is the most important mission of all, said the president, noting that the war in Ukraine was a clear reminder that peace cannot be taken for granted.
Addressing the main ceremony in Congress Square, he noted that more than 30 years ago "we, Slovenians, were capable to create the conditions to establish our own country". There are many challenges that the country faces today, including the sustainable, green and digital transition, but if there will be unity and solidarity, Slovenia can achieve anything, he said.
It is a respected country in the international community and one of the safest countries in the world, the president pointed out, adding that just as Slovenia was ready to meet challenges more than 30 years ago, it is ready to do the same now.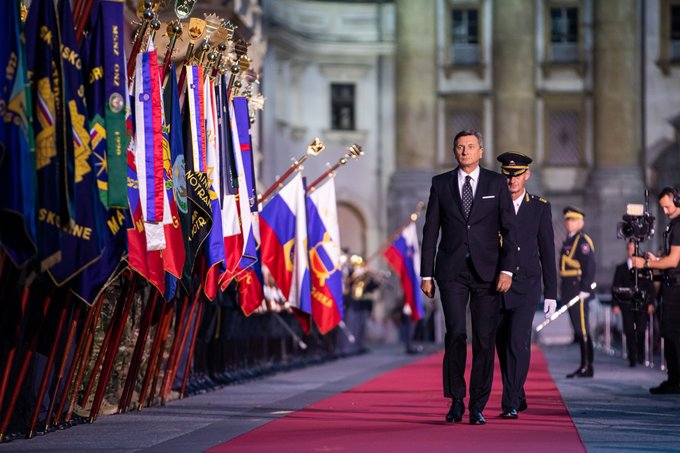 "Slovenia will help Ukraine as much as it can together with allied countries and will not let it down," he said, noting how important it was to achieve "a just peace" in Ukraine.
In the current situation, Slovenia "needs to further strengthen all the elements of statehood, democracy, its institutions and, of course, its values" and it needs to ensure that "the usual political differences do not escalate into dangerous political divisions".
He also noted that the country should help make the EU stronger, while making sure it preserves its own identity.