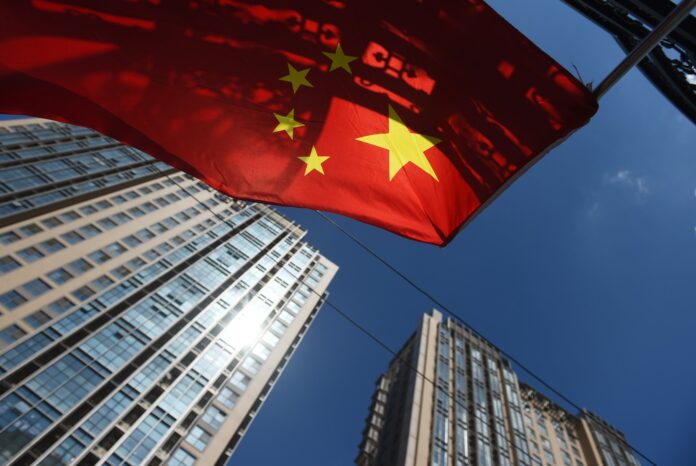 By Judith Bergman
For more than a decade, China has been secretly buying up European companies in strategic sectors, especially technology and energy. China seems to be using these European assets to fulfill the Chinese Communist Party's (CCP) ambitions to become a global force technologically independent of the West, ultimately displacing the US as the world's economic, political, and military superpower.
China has disguised its European purchases by passing them off as supposedly commercial investments. Loud Datenna, a Dutch company that keeps an eye on Chinese investments in Europe, the state-owned companies involved in the investments were hidden behind "layers of owners, complex shareholding structures and transactions conducted through European subsidiaries." A staggering 40% of China's 650 investments in Europe in 2010-2020 had "a high or moderate participation of state-owned or state-controlled enterprises, including some in advanced technologies," according to Datenna.
For example, when the Chinese took overthe Italian drone manufacturer Alpi Aviation, the Italian Air Force had already revealedthe strategic importance of Alpi's drones through their deployment in Afghanistan. In 2018, a Hong Kong-registered company, Mars Technology, acquired a 75 percent stake in Alpi Aviation. The Italian authorities were unaware of the sale, did not learn about it until 2021 and subsequently launched an investigation. The Italian authorities noted that Mars Technology was just a shell company that could be traced back to two Chinese state-owned enterprises. One of them was China Railway Rolling Stock Corp, the world's largest supplier of rail vehicles. The purpose of the acquisition was apparently the Chinese state's appropriation of Alpi's drone technology, which was transferred from the Chinese to China soon after the sale. "This is a textbook case," said Jaap van Etten, managing director of Datenna. "This is the strategy of the Chinese state, driven by the Chinese government."
Recently, the Chinese acquired Newport Wafer Fab, the UK's largest manufacturer of semiconductors, also known as microchips, which are indispensable in electronics from smartphones to high-tech weapons. In July 2021, Nexperia, allegedly a Dutch company, bought Newport Wafer Fab. However, Nexperia is owned by Wingtech Technology, a Chinese company with close ties to the Chinese state. According to Datenna, 30% of Wingtech Technology is owned by Chinese government agencies. Nevertheless, the British government did not seem to understand the threat. The sale was carried out despite protests against british Economy Minister Kwasi Kwarteng. When the chairman of the British Parliament's Foreign Affairs Committee, Tom Tugendhat, wrotethat Chinese ownership of the British microchip factory "poses a significant economic and national security issue," Kwarteng replied that the deal had been "thoroughly examined." Only after considerable pressure did British Prime Minister Boris Johnson agree to a national security review of the sale.
The European Court of Auditors, an EU institution that oversees EU finances, has found that the lack of comprehensive data makes it difficult to get an overview of Chinese investment in the EU. It seems that no one is recording it.
Efficient systems to block foreign investment due to national security concerns also appear to be either lacking or underutilized. Only 18 European countries – including Germany, France and Spain – have introduced or updatednational mechanisms for screening foreign investments, but apparently they are not always used. Since 2012, for example, Italy has used its mechanisms only four times – twice in the last nine months.
Loud Datenna is Spain's investment screening mechanism "one of the strictest control frameworks in Europe". Nevertheless, China has still managed to penetrate the Spanish energy and nuclear sectors.
In 2020, two Spanish companies, Empresarios Agrupados and Ghesa, which design and build nuclear power plants, were acquiredby the China Energy Construction Group Planning and Design. This company, through its parent company, China Energy Engineering Group, is closely associated with the state-owned Assets Supervision and Administration Commission of the State Council (SASAC), an institution of the Chinese government. SASAC owns almost 100% of the shares in China Energy Engineering Group – the parent company of the Chinese acquirer of the two Spanish nuclear design companies. The acquisition was reportedly one of the largest Chinese acquisitions of Spanish infrastructure companies of all time. In addition, Reuters also reported in 2020 that China's state-owned energy and infrastructure giant China Three Gorges had agreed to buy 13 Spanish solar plants.
The "strictest control frameworks" clearly do not stop China.
What seems desperately needed in Europe now is a deeper understanding of the threat posed by China, as well as the political will to confront that threat. Action is urgently needed to block investments that serve Europe's strategic assets on a silver platter of China's state-owned enterprises, which the Chinese Communist Party then uses to advance its expansionist goals.
Judith Bergman, columnist, lawyer and political scientist, is a Distinguished Senior Fellow at the Gatestone Institute.