Police in Austria have rushed to a synagogue in the capital Vienna after reports of a shooting. 2 dead, 15 wounded in Vienna terror attack, authorities say.
Austria's interior minister says shootings in Vienna appear to be a terror attack.
Austrian Chancellor Sebastian Kurz has labelled the Vienna shooting a "hideous terrorist attack". He says that armed forces will be taking over some police operations to allow police to focus on their anti-terror efforts.
"So that the police can concentrate fully on the fight against terrorism, the federal government has decided that the armed forces will take over the property protection previously carried out by the police in Vienna with immediate effect," Kurtz Tweeted.
Authorities say a police operation is ongoing at a synagogue and are urging people to stay away from the city's public squares. The motive of the incident is still being investigated. (Photo: PrintScreen/Twitter)
Footage posted on social media showed people scrambling for cover as shots can be heard in the background. A man can be heard shouting while sirens go off while a pedestrian can be seen cowering behind a bike rack. Flashing lights from what appear to be police vehicles can also be seen in the video. Austria's interior ministry said one person has died and several others, including a police officer, are injured.
(Photo: Twitter)
The city's force tweeted: "Urgent – Currently there is a major police operation in the #InnerenStadt."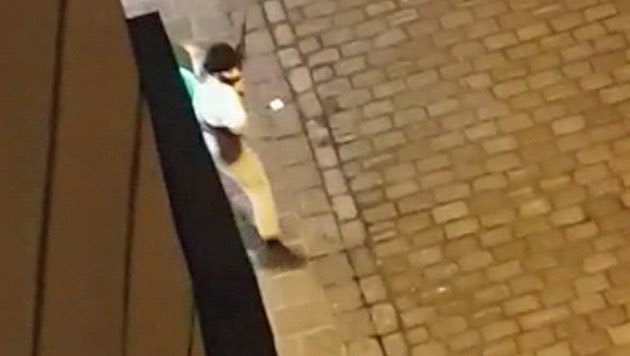 Footage of one of the Vienna attackers in Austria. (Photo: PrintScreen/Twitter)
And: "More precise circumstances are currently being collected."
"Allah" shouting terrorist shooting harmless people in Vienna (HERE).
Police said all available forces have been deployed to the area.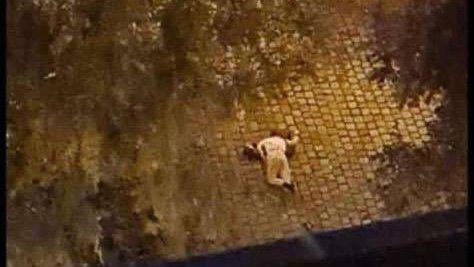 Several dead in Vienna shooting, ORF TV reporter says in broadcast. (Photo: PrintScreen/Twitter)
The head of Austria's Jewish community says it's not clear whether a Vienna synagogue or the adjoining offices were the targets of shots fired, as they were closed at the time.
Austrian public broadcaster ORF cited witnesses as saying that several shots were fired shortly after 8pm (1900 GMT). The police operation was taking place in the centre of Vienna, close to the river Danube, BBC reports.
(Photo: PrinbtScreen/Twitter)
The police reported that there had been several exchanges of fire. They also called on the public to refrain from posting videos or photos on the internet, saying they posed a danger both to police and civilians, DW reports.
A video of an Islamist killer machinegunned a random passenger was also published online, but has already been removed from the internet by politicaly correct administrators.
——————————–
ALSO READ:
(VIDEO) Radical Islamist Female Teacher Beheads Effigy Of French President In Front Of Children
Open letter from Abp. Viganò to Trump about 'Great Reset': The attacks multiplying of those who want to destroy the very basis of society: the natural family, respect for human life, love of country, freedom of education and business
A religious scholar on terrorist attacks and tensions between the Islamic world and Christian Europe: we are now at a point where Europe must decide whether it will kneel down or put an end to this and try to preserve democracy!
Prime Minister Janez Janša on Sovereignty Day: What happened in October 1991 had been inconceivable for most people even a year before